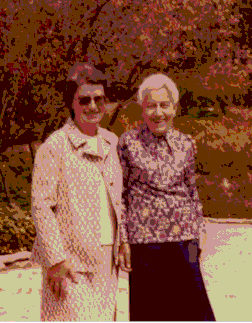 Nikki's Aunt, Chaja Rotstein Amsterdamski
and her daughter, Judith Amsterdamski Raudanski.
It was a spring day in the 1970's. I had three wonderful daughters and was a stay-at-home mother. I had begun to feel somewhat restless with the coming of spring. Spring is life reborn and I found myself lost in the past. When I was one year old, both my mother and my paternal grandfather died. With the loss of my mother went the loss of her family. My mother had been born a Lutheran and her roots went back to America's founding fathers. My great-plus maternal grandfathers had all served in the American Revolution and there were "horse thieves and Indian killers" somewhere back in that family - or so I was told by my maternal uncle. My mother had converted to Judaism when she married my father, and the members of our Synagogue who had known her told me what a wonderful person she was and how much she had come to love and celebrate Judaism in her life.
Her parents were divorced and her father visited us but died when I was four. My grandmother had never liked Jews; so once my mother died, she never again visited. At the age of 19, I went to visit her and found I felt very little except sympathy at what she had missed in life by turning her back on five grandchildren simply because they were Jewish. I never saw her again although out of respect to my mother's memory, I did attend her funeral.
I had recently come upon my baby book – kept faithfully by my mother until shortly before her death in May of 1948. My father died when I was 19 and I felt I had no roots. It was time to give my children not only wings but roots which would enable them to know from whence they had come. I needed the roots myself. I was floundering in trying to discover an identity and a faith.
I went through my baby book and found what I thought were the most "Jewish" sounding surnames. I remembered my Uncle Harry – brother to my grandfather – who had lived in New York City and had some daughters. This was before the Internet so finding someone was not easy. In a New York City phonebook, I found many names that were the same as those I had found in my baby book. I sent a letter to each seeking my cousins and hoping beyond hope I would find someone who was related. I got a hit, which surprised me more than I can say. I found Uncle Harry's daughter who put me in touch with her sister.
Through them, my family past began to unfold. Uncle Harry and my grandfather had been born in what they called Russia/Poland. The information I got was in bits and pieces but I saved each piece in hopes of finding more. I learned my grandfather had a half-sister, Carrie, who had come to visit the United States upon failing her pharmacy examination in the "old country." While she had all intentions of returning and taking the exam again, she stayed. She married, had a son who died, then a daughter and son. Her husband died accidentally and she remarried. Carrie's son Lionel was living in Washington, D.C., and her daughter Muriel in New York.
I wrote Lionel and heard back from him almost immediately. Along with his letter came an address for an aunt who had survived the Holocaust and was living in Israel. I couldn't believe how quickly everything was falling into place. A few weeks before I had a vague idea that somewhere in the "old country" I may have family and now I was on my way to finding them.
I wrote my aunt explaining who I was and what I was doing. In no time, I received a letter back from Israel with photographs and lots of information on a family I never knew. My aunt, Chaja Rotstein Amsterdamski, was happy to hear from me. She had never known my grandfather as she had been born shortly before he left for America and never knew what happened to him. She too was finding family. In the coming weeks and months, through Chaja's daughter, Judith, I managed to put together the story of my family.
My grandfather, Eliahu Rotstein, was born June 15, 1880 in Marijampole, Suwalk Gubernia, Lithuania. He was the son of Zehuda Yitzak (Jude) Rotstein and Hindl Reizl (Hilda Rosalyn) Matulsky. He came to America in 1902 where he changed his name to Jack (Jake) Alexander Roth. In 1905, he married my grandmother, Gussie Friedman, who had emigrated with her family from Austria-Hungary. They moved to McKee's Rocks, Pennsylvania where my grandfather opened a jewelry store on Chartiers Avenue; they lived above the store. They had two children, my father, Charles, and his sister, Leah.
My Uncle Harry was born Hirsch Rotstein in Marijampole on January 21, 1881, and came to America a year after his brother. He married Minnie Goldbloom in Pittsburgh, Pennsylvania; they had two daughters, Sybil and Hilda.
An older brother, Leib, remained in Lithuania. My great grandmother, Hindl Reizl, had died about 1883 and my great grandfather married again to a woman named Hana-Liba. They lived in Kalwarija, Suwalk Gubernia, Lithuania. I learned my great grandmother had been married and widowed before she married Jude. From her first marriage, she had a daughter, Esther, who had come to the United States ahead of my grandfather and his brother. I never have learned her surname or what happened to her and her family. The only clues were she and her husband had something to do with the jewelry business in New York City. I am not sure to this day whether my great grandmother's maiden name was Matulsky or if that was her first husband's surname.
Beginning with my Uncle, Leib Rotstein, I learned he had three children. One son, Yantush, went to France and survived the Holocaust there. He was living in Paris in 1957 and died shortly thereafter. He had no children. Another son, Yeheskal, died at the hands of the Nazis, Einsatzkommando 3, in 1941. Yeheskal's wife Sally and her son, Lova, survived and eventually went to Israel. I have been unable to locate them. Leib's daughter Rosa married, had children, and they all perished in 1941 at the hands of Einsatzkommando 3.
From my great grandfather's second marriage, there were six children: Zlata, Chaja, Tsemach, Chaim, Kreina and Alta. Kreina was my Aunt Carrie whose family I have listed above.
Zlata married Jakov Shapiro and they had one son, Zalmon. Jakov was arrested by the Russians in 1937 and sent to a labor camp in Siberia where he was presumed to have died as he was never heard from again. After the war, Zlata settled in Kapsukas, Russia. Zalmon married Ada and they had two children, Alexander and Inna. Alexander went to Israel during the first Gulf War where he has settled with his family.
My Aunt Chaja, whom I had found living in Kiryat Ata, Israel, had married Eliash Amsterdamski and they had two children, Judith and Menachem. Chaja and her family had been sent to the Kovno (Kaunas) Ghetto and from there to various camps. Eliash had survived Dachau where he and his son were sent. Judith and Chaja had both survived Stutthof. From the International Tracing Service in Germany, I received verification from the records of Dachau that Menachem (called Menia by family) had been transferred from Concentration camp Kauen to Concentration Camp Dachau, Commando Kaufering on July 15, 1944. He was prisoner #80830 and died at Dachau January 23, 1945. According to the records, he was single and a brush maker.
After the war, Chaja and Eliash were reunited in Israel. Judith returned to Lithuania (then Russia), married David Raudanski and they had one son, Imanuel. They all went to Israel in the 1970's, which was about 14 years after they had first applied to leave Russia. Shortly after my first contact with Aunt Chaja, Ima came to visit. He had just graduated from the Technion and was touring the United States before returning to Israel to serve in the IDF. A year later, Judith and David came to visit as well, and it was wonderful meeting all of them. I never got to meet Aunt Chaja who died in 1984. Judith died in 1997. Ima continues to live in Israel with his family and we stay in touch. He has been to visit the United States a number of times and he and his wife, Shoshanna, are wonderful people. Their oldest son is now serving in the IDF.
Tsemach, who was a physician, married Rosa, a dentist, and they had one son, Gema. Gema married Nina and they have two daughters, Sonia and Lena. I have not been able to make contact with them.
Chaim never married. He was what my aunt called "head of the town" which would have been the shtetl where he lived. He was sent to a Russian labor camp in Siberia in 1941 and is thought to have died there, since he was never heard from again.
Alta married Pineh Fink, who owned a pharmacy in Kalwarija. They had two sons, David and Jude who attended school in Kovno. Alta, Pineh, David and Jude died in 1941 at the hands of Einsatzgruppen 3.
In recent years, since being on the Internet and having a webpage on the Holocaust, I have found other members of what I call my grandfather's extended family. They are my Aunt Chaja's family. There is Uncle Eliash's brother, Dr. David Solomon Amsterdamski who died in the Warsaw Ghetto on January 19, 1943. There is David's son, Stefan Amsterdamski who survived, and Stefan's daughter Olga and granddaughter Naomi Natalie whom I have gotten to know through e-mail. There is Eliash's niece, Fira Amsterdamski Paulauskas who now lives in the United States and whom I have also gotten to know via e-mail.
I had found my roots. I was happy to know I did have an extended family, but sorry I would never get to know many of them. So many had died simply because they were Jewish, whether at the hands of the Russians or the Nazis.
At a recent Holocaust conference, I met a gentleman who works for the United States Department of Justice and had worked on the prosecution of Nazis who had escaped to America. He mentioned the first record he looked at in his job was the report of the Einsatzkommando 3. He sent me a copy in the original German as well as a translation. In some ways, it made crystal clear what had actually happened in Marijampole and Kalwarija in 1941, but it didn't help to find exactly what happened to my family. There were so many murders and for every single day, there are listings of the number of Jews, Jewesses, and Jewish children killed. To the Nazis, Jews were numbers—no names, no families, just the number killed each day.
I want the world to know my family once lived. They laughed, they cried, they married, they had children, felt joy and sorrow, had hopes and dreams for the future and surely felt terror when they died. The Nazis destroyed those dreams and hopes. In telling you of those who died, I am assuring their memory lives on. Lest we ever forget or ever allow the world to forget.
Nikki Roth-Skiles, editor,
Lancaster, Pennsylvania 17601
United States of America

April 30, 2003
Edited by Dr. Karin Doerr, Concordia University, Quebec, Canada
---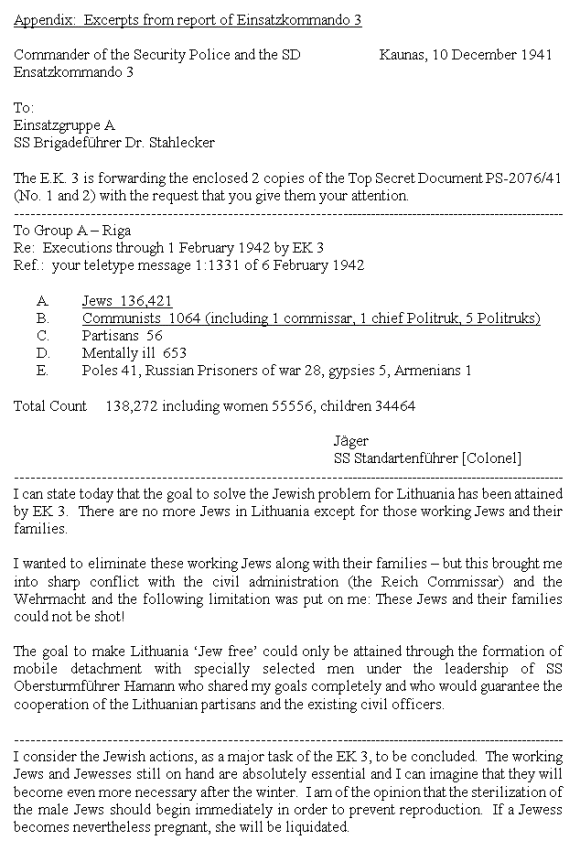 © Copyright Judy Cohen, 2003.
All rights reserved.