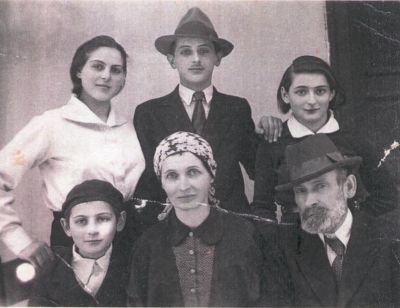 For captions and more information, click here (launches in new window)
The daughter Nitza asks questions, and her mother Saraleh answers.
Nitza: Mother, I know that in the days of the Second World War you were taken to Auschwitz. However, I know so little about your beginnings. What happened before and in Auschwitz, and what happened afterwards? I am embarrassed that I don't even know my grandmother's name. All I know is my grandfather's name was Itzhak. I know that it is very difficult for you, but I ask of you, tell me, so that my daughter and I could know our past and then steer our future.
Saraleh: I was born in 1917. My father was a teacher, and my mother was a housewife. We lived in Cluj, the capital city of Transylvania, and this is how it started.
One day in the beginning of May 1944, I was on my way home when I saw a gathering of people on a bridge, underneath, a running stream. Near our house were two homes that belonged to very rich Jews. This time a truck was parked beside them. The Germans forced the Jews, while still in their bathrobes and slippers, out of their houses and onto the street. After the evacuation, the Germans decided that these two houses would be the Gestapo headquarters.
Nitza: You must have told everyone at home what you saw. What did you do? Didn't you and family run away?
Saraleh: We did not do anything, and we did not run. We thought that it would be just that one incident. The Jews in Cluj, at that time, did not even think about the possibility that it could also happen to them. But reality was different. That night at 11:00 o'clock, the Germans barged in screaming: "Open up! Open up! Get out!" Our apartment was in the backyard of a big synagogue. The Germans gave my father and my brother axes and commanded them to go into the synagogue and slash the tables and the benches.
The next day in the afternoon the men of the "Sonderkommando" came, and told us to clear out of the apartment. Father went to the city and brought a horse and carriage. We loaded up our things and the whole family moved to my cousin Edit's apartment, who lived on another street. We had to wear yellow patches. We lived at Edit's place for a few weeks. One morning, at about 5:00, o'clock, they ordered us out of the house and moved us to a brick factory. We were only allowed to take one small package of items for personal use.
Nitza: How many Jews were brought to the factory?
Saraleh: Every Jew from Cluj, about 10,000. Hungarian soldiers helped the Germans guard us. When we arrived, they immediately took everyone's watches and jewelry. We lied on the ground, forming lines.
Nitza: How long were you there? What did you do? Did you try to organize yourselves? Was there panic or hysteria?
Saraleh: It happened at the end of May 1944. We were in that factory for a full month. We did not do anything. We were just lying on the floor. People were quiet.
Nitza: When did they take you out of there?
Saraleh: In the beginning of June, during Shavuot. They took us to the train station and crammed us into freight cars that were built to ship cargo. We were together, our whole family. They told us that we were going to some village, and we would work there. We understood what the Germans told us because we spoke Yiddish.
Nitza: I heard from someone or I read that Hungarian Jews were sent to the concentration camps in passenger trains, in normal conditions, so that they would be deceived and wouldn't cause problems.
Saraleh: That is not true. It is possible that some Jews originally from Hungary were transported by passenger trains. See, I am from Transylvania. We were crammed into the cars for three days. We did not get anything. In our car there was a family with a baby, 9 months old. The mother mixed some kind of liquid in a cup. I held the cup, and the father held a candle underneath it. This was how she prepared porridge for her baby. The baby stayed alive until Auschwitz.
Nitza: What happened when the train got to Auschwitz?
Saraleh: They let us out of the cars. On the platform stood a German officer, who, I found out later, was Dr. Josef Mengele. He divided anyone who arrived into two groups, one on the left and one on the right. My mother, my father, and Edit's mother were moved to the left. Edit, my cousin, Edit's sister, and I were moved to the right. Also, my brother Lolo went to the right. Then, we did not know that left meant death, and right meant delaying time.
Nitza: What happened to the baby that you prepared porridge for in the car?
Saraleh: The mother was a young woman, about 30 years old. She held the baby in her arms. The Jews from Poland, who were seniors at the camp compared to us, knew that mothers with babies would be sent to the gas chambers immediately. When they saw the young woman with the baby, they shouted at her to give her baby to an older woman. The mother, without understanding what these Jews meant in their screams, gave her baby to an older woman in confusion. The older woman was also from Cluj. I knew her. She, with the baby, went to the gas chambers. The young mother lived for a short while afterwards. In those hours, no one understood anything about what was going on around us, or with us. It was horrible, just horrible.
The next day, the mother burst out in shrieks: "Where is my baby?! Where is my baby?!"
Now that I too have children, I can understand her pain. In our transport, there were many babies. After the sorting, they took us to Auschwitz. The gas chambers were in Birkenau near Auschwitz. The blocks were in our camp. When we got there, we had to take our clothes off and other prisoners shaved the hair off on every parts of our bodies. Instead of proper clothes, they gave us rags and wooden clogs. In our section, they had already stopped tattooing numbers on our arms. In those days, great many people arrived in Auschwitz by train. Also, the Germans were very stressed because of the situation at the fronts.
They engaged us by making us move stones from place to place, useless work. In our block there were no bunks to sleep on. We had to lie on the bare floors. In Edit's and Yehudit's block, there were bunks. After one of the selections, when people were taken away, some spots became vacant there. Edit sent Yehudit to me and transferred me to their block. There was a spot for me at the bunk.
By then, the Germans' order and discipline did not function as before, so this risky transfer could be done. Prisoners of the block I was in before I was transferred, were all killed. I was saved from death by slave labour.
They held us in the working area for long hours. My gown was infested with lice. One day, when the hunger was eating at me and I thought my end was near, I gave my nightgown to my neighbour and in return he gave me a slice of bread. In October 1944, they took us to a factory that belonged to an electrical firm, "Telefunken", to work there. There, they manufactured machinery for the army. The factory was near the Czech border. My knowledge of the German language helped me a lot. I worked in the office, writing serial numbers for products. For a while, Edit and I worked in different sections.
For reasons I cannot explain, they did not take us on the "Death March" to Germany on the night before the liberation.
Nitza: How were you liberated?
Saraleh: One morning in May 1945, we heard shouts. The men who worked with us in the factory already knew that the Germans were retreating and the Russians were advancing. The men yelled: "We have been freed! We have been freed!" The German guards fled. The next day we ran away, and ended up past the border in a Czech village called Pisarova. The Czech villagers welcomed us nicely. We were in the village for a few weeks, and I returned, by train, to Hungary.
Nitza: Mom, is this hard for you? Do you want us to stop for a while? I will make you a cup of coffee and then we will continue.
Saraleh: On the way to Budapest, I saw, in a few places, spray painted on walls, insults written in Hungarian. "Itzik, now we won't wait for Auschwitz, we will finish you now. "Itzik" (Itzhak) was a common Jewish name, and the people who wrote this meant this as a generalization, for all the Jews. They were not referring to your grandfather, whose name was Itzik too. The Hungarians were not sympathetic at all.
At the train station in Budapest I saw a large notice on one of the walls. It said, "Anyone who was a member of the Hashomer Hatsa'ir [the Zionist Socialist Youth movement] should come to the following address" (which was written in the notice). I went to that address. There, a member of the organization, Yosef (Yoshka) Meir, today a member of Kibbutz Gaton, welcomed me. Yoshka was part of the Jewish underground in Hungary. I went to the training camp in Budapest and we got ready to go to Israel.
But I decided to go to Cluj also, to see if someone from my family was still alive. In one of the suburbs of the city, I entered the house of the farmer who used to deliver milk to our house. My mother trusted him and placed in his hands belongings and valuable things to keep. Among these items was bedding, she prepared for my dowry. The farmer expressed sadness. He said he no longer had the package my mother gave him. "The Russians stole everything, and I was even lucky to be alive". He was a liar, and an anti-Semite.
After, I went home. The house was still standing. The furniture, the clothes, the dishes, and the kitchen - everything was stolen. I found an empty house. No one lived in our house. I did not find anyone from my family or my friends.
I returned to the training camp in Budapest and with the group I moved to Israel in 1946.
Nitza: Mom, how did you meet your brother Lolo?
Saraleh: Lolo was in Auschwitz. A large group of Jews was taken from Auschwitz to Warsaw. Lolo was in that group. They brought the Jews to clean the remnants of the destruction of the large Warsaw ghetto. Afterwards, they moved them from Poland to Germany. There, he was liberated.
At the end of the war Lolo went to Italy for training. From there he came, through Cyprus, to Israel.
In Israel I met up with my sister Carmela, in blessed memory, and with Lolo, in blessed memory. Edit and Yehudit are still living outside of Israel.
The Germans murdered all of my other family members.
Last words to the testimony of Sarah Batscha
The story has ended, but the issue has not. I, her daughter, feel like a demon has forced me to concentrate on my mother's testimony. She spoke with such flow that it was like the demon in her body grabbed her, and when she let everything out, she could never tell the whole story again.
I think to myself, we should have heard this story a long time ago. Maybe if Mom would have told us years ago she would have released the burden on her heart. Maybe we would have made it easier for her if she knew that we are part of her life story, to her fate and to her family's fate. Maybe our family and friends of the Kibbutz would have found more patience, more feeling, and more willing to give her the help and the support she needed.
40 years needed to pass so that our parents, the survivors, would open their closed hearts to tell us about their overpowering and difficult distress.
40 years needed to pass so that we, the second generation, would open our closed hearts in order to hear each other, and maybe, if even possible, to try and deal together with this atrocious concept that could not be grasped, and with this horrible pain that we left our mother's womb with. The pain that we breastfed on, and the pain that we will carry for years until the end of our lives.
---
Source:
Testimony of Saraleh Batscha (Mondula), member of Kibbutz Evron.
The details of the book from where the article was taken:
"You Tell it to Your Sons", Kibbutz Evron, Tel Aviv 1990.
Minor editing: Judy Weissenberg Cohen and Ada Holtzman.
By courtesy of Ada Holtzman (http://www.zchor.org.)
---
© Copyright Judy Cohen, 2004.
All rights reserved.